Careers at Wren Sterling
We're growing and developing talent from within to bring through the next generation of advisers, support teams and central services.
Why Work For Wren Sterling?
Working at Wren Sterling will help you build your career, whatever stage you are at. Our investment in training and personal development, alongside a culture that celebrates high quality service and values doing what we say we're going to do, means you're in the right place. For financial planners, if you're a forward-thinking with a true passion for client service, a hunger for unlimited earnings potential, who wants the full support of a national business that is geared up, innovative and going places, then Wren Sterling is the company for you.
Value to clients

Our service can be immensely valuable to our clients. The demand for financial advice will grow and become more valuable to a wider cross-section of society. Wren Sterling is set up to attract more clients and help more people make the increasingly difficult financial decisions facing them.

Quality of service and advice

We genuinely care about the quality of our service and advice. We want to attract the very best advisers and give them all the support they need to grow with us. That includes personal development, admin support, tools, IT equipment, and marketing, to make sure advisers spend more time with clients.

Innovation

We've secured enviable national introducer arrangements with major accountancy, insurance and law firms that are just waiting to be maximised. We also recognise that clients want to interact with their adviser in new ways, so we've got video conferencing facilities available and a dedicated telephone advice service.

Diversity and inclusion

Wren Sterling welcomes application from people in all walks of life. Our diverse workforce gives us diversity of thought, making us a more entrepreneurial business. Furthermore, it enables our people to connect with the diverse communities in which we operate.

Employee Benefit Trust

We want our employees to benefit from the contribution they make to the success of the business. We've established a Discretionary Trust that ensures that employees receive a share of profits made at each reinvestment point.

Perks

We offer flexible benefits, a day off for your birthday, a casual dress code in the office for non-client facing staff, access to private medical insurance, an electric car scheme and group income protection, critical illness and life insurance, with more benefits added each year.
Get in touch to ask us about our roles
Wren Sterling has invested in me attaining Fellowship and as an all-round Adviser. I'm left to run my work like my own business and the management team are there as a support not hinder. When I have any queries or concerns I can easily engage with the relevant people and will get instant support. The Adviser Package is fair, and working within Partnerships I have more than enough leads to keep me going.

Rita Verma,
Chartered Financial Planner

I completed a Science degree in 2007 and started my career as an IFA Administrator and progressed through a variety of roles. Currently I contribute to the development, implementation, and monitoring of operational strategies to optimise the client experience and drive business profits. I enjoy the managing of day-to-day activities, analyzing statistics and reading and writing reports. I have recently completed my Lean Six Sigma Green Belt and look forward to applying this to my role and helping the business.

Charlotte Liley,
Head of Central Operations

Working at Wren Sterling gives you the chance to make a huge difference to the lives of thousands of our clients. Whether you're an experienced professional looking for your next move or a you're looking to get the qualifications you need to kickstart your career, Wren Sterling has much to offer. We're committed to investing in the development of all our staff and our can-do culture encourages people to seize the initiative and push themselves and Wren Sterling forward.

Stephen Williams,
Director of HR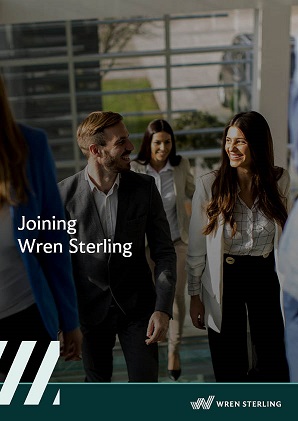 Our recruitment brochure
At Wren Sterling, we want to help you achieve and succeed. If you hold great customer outcomes close to your heart, then we want to hear from you. You don't need to tick all our boxes, as long as you have a passion for helping and supporting customers with their needs and support them in meeting their financial objectives.